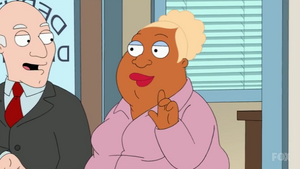 Lorraine is a secretary at CIA Headquarters.
In "Chimdale", Steve shows her the bald eagle balloon that he brought for his dad whom he believes is working without his wig but finds out he is still wearing it.
Lorraine has a crowd scene cameo after Jeff claims the money in "100 A.D.".
In "G-String Circus", Deputy Director Bullock directs her to send a mass e-mail to all agents to join him at XanaBoobs to spend the CIA surplus funds.
Lorraine becomes Deputy Director Bullock's personal assistant in "Flirting With Disaster". When Francine is hired to replace her as secretary, all of the CIA employees start paying attention to Francine and ignore Lorraine. During lunch with Stan who is also depressed that he feels he can't flirt with the office ladies while Francine is around, the both agree that Francine has to go. While Stan merely wants to get Francine fired, Lorraine throws acid in Francine's face, melting it and is arrested.
Despite her previous legal problems, she is seen as a secretary again in "Wheels & the Legman and the Case of Grandpa's Key" when she enlists the help of the duo to locate her missing bird Flygirl which is already dead and Steve struggles to hide the body until he learns to confront people with bad news and tells her the truth.
Lorraine appears during "He's Got a Kink" in "The Missing Kink", is one of the savage survivors in "The Two Hundred", participates in the CIA gift exchange in "Gift Me Liberty", and is a prisoner in "Mom Sauce".
She joins the strike in "(You Gotta) Strike For Your Right" and can be seen at the Turgid Springs Nudist Resort in "Stan & Francine & Connie & Ted". She also appears during "Everyone is Happy in Utopia" in "300".
Lorraine is voiced by Niecy Nash.
Appearances
Community content is available under
CC-BY-SA
unless otherwise noted.