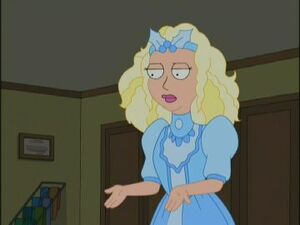 Lisa V. Kudrow (born July 30, 1963) is an American actress, best known for her role as Phoebe Buffay in the television sitcom Friends. Throughout her career she has received many accolades for her work in film and television including an Emmy Award and two Screen Actors Guild Awards.
Lisa Kudrow provides the voice of Michelle in "The Best Christmas Story Never".
Stan mentions Lisa as the cause of a bout of impotency in "All About Steve".