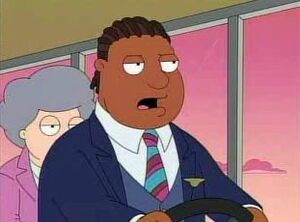 Leslie is an airport security agent in "Home Adrone". Another security agent tasers Stan when he tries to reboard a plane and calls over Leslie to take his picture. Roger also sends Leslie pictures of people's butts in "There Will Be Bad Blood" and "The People vs. Martin Sugar".
Leslie helps Roger, in his guise as an elderly widow, to his plane in "Killer Vacation".
Leslie is voiced by J.B. Smoove as is his unnamed associate.