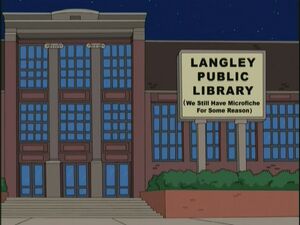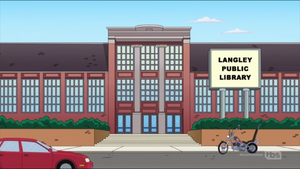 The Langley Public Library is where Francine finds out about the murder of Anne Flemming in "Not Particularly Desperate Housewives". Another patron, Marvin, becomes slightly angry with Francine when she makes too much noise finding out about the murder while he is trying to vote girls 'Hot or Not' on the library's computer.
In "The Chilly Thrillies", Francine takes Roger to the library when she discovers that his whispering gives her pleasurable chills. When he is unaware of what a Hufflepuff is, she offers him a pickle whose crunching noise gives her the same effect.
Community content is available under
CC-BY-SA
unless otherwise noted.