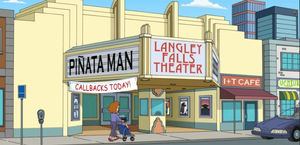 The Langley Falls Theater is the site of the play Piñata Man in "A Piñata Named Desire". When Roger fails to impress the director Mr. Rivera-Perez for the lead in the play, he gives the role to Stan, whom Roger had just taught how to act. Roger gets a smaller role but is frustrated that he has no lines. Roger disables the leading lady Jacinda and her understudy to take their role and proceeds to try to show Stan up as the better actor. After their battles to top each other, Roger thinks he has the upper hand when they come to the love scene, something Stan had always hesitated at before. After a momentary freeze, Stan throws himself into his acting and Roger on the table, resulting in their arrest for performing an indecent act.
The theater is the site of the Steve's Homecoming Spectacular in "News Glance With Genevieve Vavance" when Roger's persona of news hawk Genevieve Vavance frames Hayley for kidnapping Steve for ratings.
A different Langley Falls Theater is the site of the performance of Stan's show Stomp in "Stompe le Monde". But when he fails to hire a director, believing that the townsfolk he hired could just wing their way though the show, the family is forced to flee from an angry mob after they realize that they've been swindled.
Community content is available under
CC-BY-SA
unless otherwise noted.