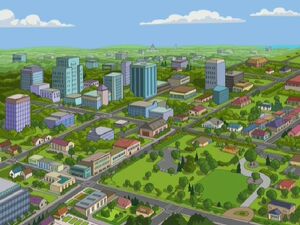 Langley Falls is the fictional community where the Smith Family reside. Langley Falls is in Virginia in the Washington, D.C. metropolitan area. The town name is a composite of Langley, a community located in McLean and Great Falls, two unincorporated communities located in Fairfax County. Langley is also the real-life location of CIA Headquarters.
Despite this, a zip code of 23665 is given in both "Frannie 911" and "Great Space Roaster", which is listed as Hampton, VA in Southern VA. 23655 is given in "Death by Dinner Party", which would be in Livingston, Louisiana.
The local newspaper is the Langley Falls Post, which features at the opening credits of almost every episode of the first three seasons. See list of newspaper headlines.
Langley Falls has a sister city, Haifa, Israel in "Live and Let Fry".
Some of the places featured in Langley Falls include:
Cherry Street - The Smith's street and home to Terry Bates, Greg Corbin, Linda Memari, Bob Memari, Bob Tuttle, Betsy White, Chuck White, Christie White, Buckle, Sharri.

Smith Home - The Smith family house has numerous address' given.

Groff Community College - The college that Hayley and Jeff attend.
Langley Falls Retirement Villas - Home of Grandpa Smith (deceased) and Gretchen. The sign at the front reads, 'Langley Falls Retirement Villas -- A Wonderful Place to be Forgotten'.
W-ANG Studios - Local television station that Stan takes over when he convinces the senate that television is responsible for masturbation.
Community content is available under
CC-BY-SA
unless otherwise noted.