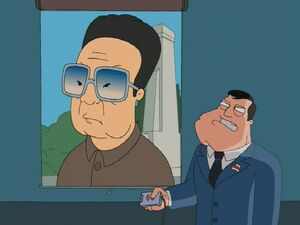 Kim Jong-il (born February 16, 1941 (Soviet records) or February 16, 1942 (North Korean records-died December 17, 2011), was the leader of the Democratic People's Republic of Korea (North Korea). He was the Chairman of the National Defense Commission, General Secretary of the Workers' Party of Korea, the ruling party since 1948, and the Supreme Commander of the Korean People's Army. In April 2009, North Korea's constitution was amended and referred to him as the "Supreme Leader".
Kim Jong-il appears in Stan's presentation to the Senate on the evils of television in "A Smith In The Hand".
In "Red October Sky", he appears as a Matryoshka doll on Steve's dresser.
Community content is available under
CC-BY-SA
unless otherwise noted.