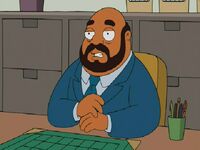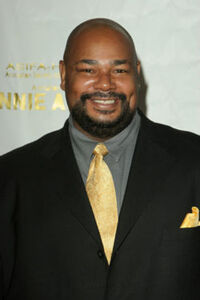 Kevin Michael Richardson is an American actor and voice artist, who starred in the short lived The Knights of Prosperity, an ABC comedy.
He also is best known for his deep voice and portraying villains. His credits include Captain Gantu from Lilo & Stitch, Goro in Mortal Kombat, the second voice of Skulker on Danny Phantom, Sarevok in the Baldur's Gate series, Jolee Bindo in Star Wars: Knights of the Old Republic, Crunch Bandicoot in two of the Crash Bandicoot games, Tartarus from Halo 2, The Joker in The Batman, Openly Gator from Queer Duck, and Barney Rubble from modern-day animated series and movies based upon The Flintstones. Also Cleveland Jr. on The Cleveland Show.
Kevin provides the voices of Principal Lewis, Ted Feedler, Tank Bates, Captain Monty and other assorted voices on American Dad.