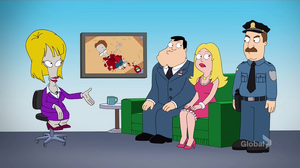 Keith Benson is the police officer that arrests Stan and Francine Smith for the murder of Steve in "News Glance With Genevieve Vavance" when Roger's persona of news hawk Genevieve makes a crime reenactment which pronounces the Smiths guilty without any evidence.
Previously, officer Benson appeared at the scene of Anne Flemming's murder in "Not Particularly Desperate Housewives", one of Kevin Bacon's arresting officers in "Four Little Words", and arrested Stan in "The People vs. Martin Sugar".
He is also seen being carted through the streets in the bad neighborhood by a gang of kids in "Less Money, Mo' Problems" and is one of the officers that beat and arrest Steve after he is framed by Roger in "Ricky Spanish".
He later arrests Stan outside of the Red State Grocery when he tries to pretend that he has banished everyone and runs around naked in "Morning Mimosa". Keith is one of the arresting officers when Jeff kills Harpy at the Langley Falls Aquarium in "Hayley Smith, Seal Team Six". In "Garfield and Friends", he provides security at CIA Headquarters.
He is one of the officers that drives away after Stan recovers his SUV in "A Nice Night For a Drive" and arrests Dennis in "The Talented Mr. Dingleberry".
Kieth is seen in the news story for the dinner party killer in "Death by Dinner Party".
Appearances
Community content is available under
CC-BY-SA
unless otherwise noted.