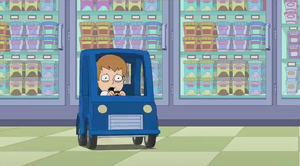 Joshua is a child that is involved in an explosion caused by Stan's negligence in "Permanent Record Wrecker".
While doing a walk-through with a supervisor, Steve and Tom discover that Stan stacked butter next to a heating vent due to there not being enough room on the shelf, causing it to melt. Stan blames it on poor training by Steve to get him in trouble, which Tom joins in the criticizing of Steve.
As they look on, Joshua's mother slips in the butter, causing Joshua to careen through the store and crash upside down into a display of habanero salsa. A jar of the salsa ignites, causing Joshua's shopping cart car to burst into flames and explode.
Community content is available under
CC-BY-SA
unless otherwise noted.