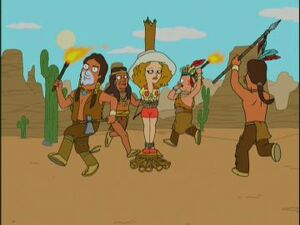 Alicia Christian Foster (born November 19, 1962), better known as Jodie Foster, is an American actor, film director and producer.
Foster began acting in commercials at 3 years old, and her first significant role came in the 1975 film Taxi Driver as the preteen prostitute, Iris, for which she received a nomination for the Academy Award for Best Supporting Actress. She won an Academy Award for Best Actress in 1989 for playing a rape survivor in The Accused. In 1991, she starred in The Silence of the Lambs as Clarice Starling, a gifted FBI trainee, assisting in a hunt for a serial killer. This performance received international acclaim and her second Academy Award for Best Actress. She received her fourth Academy Award nomination for playing a backwoods hermit in Nell (1994). Other popular films include Maverick (1994), Contact (1997), Panic Room (2002), Flightplan (2005), Inside Man (2006), The Brave One (2007) and Nim's Island (2008).
Jodie Foster appears on the set of Taxi Driver in "The Best Christmas Story Never". When Stan has to take over filming Taxi Driver, he criticizes De Niro's acting because he tries to keep John Hinckley Jr. infatuated with her so he will try to assassinate President Ronald Reagan. De Niro walks off the set, leaving John Wayne to take the role of Travis Bickle.
The opening scene of "You Debt Your Life" with Roger drunk and dancing in a bar is a reference to Jodie's 1988 film The Accused. His outfit copies that of her character of Sarah Tobias.
The title of "The Unbrave One" is a parody of Jodie's film The Brave One.