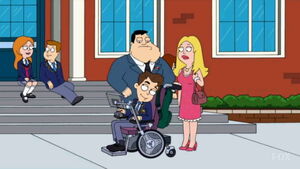 Jimmy Boombox, as Stan names him in "School Lies", is a boy with ALS, also known as Lou Gehrig's Disease that attends Stuffington Academy, a private school that Francine wants Steve to attend. Stan is unimpressed at first and insults the students, until he learns that Senator Buckingham, the Senator in charge of assigning task force positions, has a daughter that also attends the school.
After being framed by Stan for armed robbery committed by Steve, Jimmy Boombox encounters the escaped John Q. Mind last seen in "In Country...Club" escaping from a hospital. Recognizing a kindred spirit in Jimmy, John Q. Mind uses his mental powers to place Jimmy in the sidecar of his motorcycle and they race off together to have further adventures. Their departure is covered in the style of a television adventure drama titled as Mind Quad!.
Community content is available under
CC-BY-SA
unless otherwise noted.