In reality, marijuana is illegal in Virginia, except for "low-THC, high-CBD" marijuana prescribed for medical purposes.
Kurtis Blow's "The Breaks" plays before they enter the tunnel.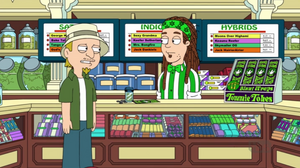 The pot varieties at Budhouse Collective are:

George H...
Bake Tahoe (Lake Tahoe)
Tango and Hash (Tango and Cash)
God's ...
Sexy Grandma
Keefer Sutherland (Kiefer Sutherland)
Mrs. Bongfire (Mrs. Doubtfire)
Jack Dankiels (Jack Daniels)
Moons Over Highami (Moon Over Miami)
Skymaller OG (Skymall, Skywalker OG)
Jack HairierAirier (Jack Herer)

Tommie Tokes' appearance is based on Snoop Dogg.

Similarly, Tommie's underlings, the Snoopa Loompas, are portmanteaus of the Oomplaloompas and Snoop's own name.