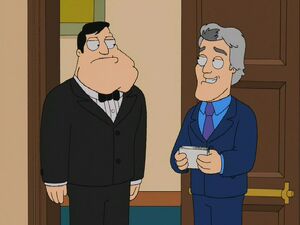 James Douglas Muir "Jay" Leno (born April 28, 1950) is an American stand-up comedian and television host. From 1992 to 2009 and again starting March 1, 2010 he is the host of NBC's The Tonight Show with Jay Leno. In between his two stints, he was the host of his own self-titled show entitled The Jay Leno Show.
For the surprise 25th anniversary of Avery Bullock at a banquet in "Stan of Arabia: Part 1", Jay Leno was supposed to do the roast. Stan accidentally kills Jay and has to perform the roast by himself. It goes horribly wrong and Stan is thrown out. In this appearance, Jay is voiced by Wally Wingert.
In "Casino Normale", Roger gets hooked on classic cars, reportedly to get thumbs from mustache guys. Instead, it is part of a trap to capture Jay Leno, whom Roger found in his revenge book, although he can no longer remember the offense. Hayley and Steve find what they think was the reason, but just lead to an acting gig for Roger. Roger eventually realizes that his 'revenge book' is really just an autograph book but by that time, Jay has died. Driving with the body hanging out of the trunk, Roger gets a thumbs-up from an entire row of mustached car guys and realizes it wasn't a complete loss.
His picture appears on a poster of suspected lizard people in "Paranoid Frandroid".
Community content is available under
CC-BY-SA
unless otherwise noted.