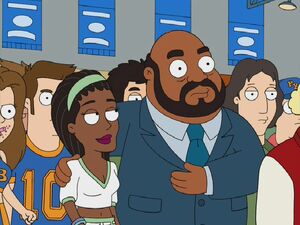 Janet Lewis is one of Lisa Silver's friends at Pearl Bailey High School and daughter of Principal Lewis.
In "Escape from Pearl Bailey", Steve gets back at her thinking she was one of those involved who posted a slam page against Debbie Hyman along with Lisa and Amy. In revenge, he gets all kinds of fats and inserts it into her leg which makes one bigger than the other. When Steve is surprised to find out later that Janet is the principal's daughter and asks him why he never told anyone, Principal Lewis admits he is 'ashamed of Janet'.
Janet's basic character design is also used in numerous background cameos.
Janet is voiced by Stacey Dash.