In Country...Club
Steve relives the Vietnam War.

Season: 5 Episode: 1
Total Episode Count: 79
Prod. no.: 4AJN20
First Aired: September 27, 2009

Guest Starring: Estelle Harris, Robert Patrick
Featuring: Stan Smith, Steve Smith, Roger
Also Appearing: Francine, Hayley, Klaus, Principal Lewis, John Q. Mind, Buckle, Kevin, Mr. Aids, Greg Corbin, Terry Bates, Dick Reynolds, Bjorn, Jeremy, Barbra Streisand
Musical Numbers: The Star Spangled Banner, Because You Loved Me, Getting Ready for the Best Night of My Life

Director: Albert Calleros, Josue Cervantes

Assistant Director
:
Valerie Fletcher
Writers
:
Judah Miller
,
Murray Miller
Storyboarders
:
Ralph Fernan
,
Erik Kuska
Roger's Disguise
: Hula girl from "
Rough Trade
"
Plot
: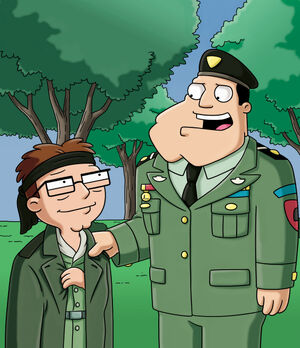 When Steve is selected to sing the national anthem at the Langley Falls Veterans' Day celebration, he gets some heat from Stan who doesn't think he's ready for such an undertaking. Unimpressed with Steve's vocal talents, Stan decides Steve needs to experience real war in order to sing about our country's military prowess. He takes Steve to The Langley Falls County Club to spend a day with friends who reenact the Vietnam War. Entrusted with sentry duty, Steve falls asleep and their base camp is overrun and Stan is captured. Feeling guilty about letting down his father, Steve decides to rescue him, becoming fully immersed in the game. Steve becomes mentally unhinged by the reenacted horrors and can't let go of the war. At the Langley Falls Veterans Center show he has a flashback during the fireworks and ends up in the hospital. he escapes and returns to the country club. Stan finds him holed up and the stress was caused by his pressure for Steve to do better at his song. Stan reassures Steve that things will be alright and Steve performs the National Anthem in his own style.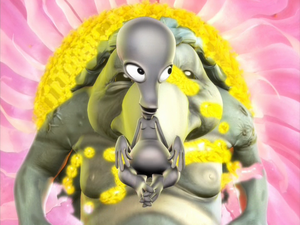 Meanwhile, Roger is excited about Barbara Streisand singing the songs of Celine Dion in a pay-per-view concert. To prepare for the concert, he has Francine cook a meal out of a songbird. But at $499, Stan refuses to give him the pass code to unlock the pay-per-view forcing Roger to pose as a member of the Viet-Cong to interrogate Stan for the pass code. Forced to use drastic torture, Roger reads the entire 700 page 1st draft of the Sex and the City movie. Stan gives Roger a fake pass code but Hayley gives him the real one in exchange for freeing the song bird. Roger tricks her by substituting Klaus dressed in a bird costume and gets to watch his concert in complete bliss.

Community content is available under
CC-BY-SA
unless otherwise noted.