Francine looks for Stan's sperm and finds a sperm sample for Janet Reno, who is a woman.
The Knack's "My Sharona" plays as Stan tries to stop Francine.
Roger sings Bing Crosby's "Moonlight Becomes You" while being held captive.
Stan compares Steve with the fall of Saigon. In his analogy, Francine's uterus represents Saigon and Steve's birth represents the "last chopper out".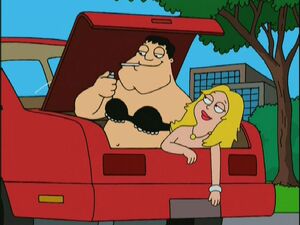 During Stan's post-vasectomy sex, he mentions a position called the "Reverse Bulldog" to Francine, adding that she needs to punch him harder. The Reverse Bulldog is commonly known as a wrestling move.
When Roger reveals to Ethan he's not really a professor, he says he prefers to return to his old life of watching bad television. Both The Majestic and Ace Ventura he mentions starred Jim Carrey. Seth MacFarlane was a writer for the cartoon adaptation of Ace Ventura. In another Jim Carrey connection, the scene of Stan and Francine having sex in the trunk of the car is similar to a scene in Jim Carrey's Once Bitten of making love in a casket.
Debbie identifies Stan's gun as a Kel-Tec P-11 9mm.
Community content is available under
CC-BY-SA
unless otherwise noted.