Hot Water
An evil Hot Tub begins to dominate Stan's life.

Season: 7 Episode: 01
Total Episode Count: 116
Prod. no.: 6AJN18
First Aired: September 25, 2011

Guest Starring: Cee-Lo Green, Gabourey Sidibe, Michael Peña
Featuring: Stan Smith, Francine Smith
Also Appearing: Steve Smith, Roger, Hayley, Klaus, Principal Lewis, Jackson, Quackenbush, Mah Mah Ling, Bah Bah Ling, Susan & friend, Anne Flemming, Fussy, Marguerite, God, Joe Nakash, Cee-Lo Green
Musical Numbers: Dip a Toe, Hot Tub of Love, Do Whatever You Like, Daddy's Gone, Hot Tub Research, Psychotic Hot Tub

Director: Chris Bennett

Assistant Director
:
Ralph Fernan
Writers
:
Murray Miller
,
Judah Miller
Storyboarders
:
Jim Feeley
,
Jacob Hair
,
Brian Mainolfi
Roger's Disguise
: Non-standard opening
Plot
: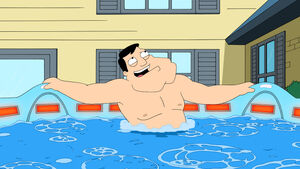 Stressed out by his family and his obligations, Principal Lewis takes Stan Smith shopping for a hot tub at the Little Shop of Hot Tubs. Stan is drawn to a used hot tub in the store back room that Marguerite tries to talk him out of purchasing but Stan decides he wants it anyways. At first, Stan and Francine enjoy the tub and the relaxing sex in it.
Marguerite later reconsiders his position on the tub when he gets a chance to party with Principal Lewis and Stan until they are chased off by Francine. Francine starts to worry about the effect of spending all of the time in the tub is having on Stan and orders him to stay out of it too. That night, the tub calls to Stan and he returns, annoying Francine who gives Stan an ultimatum of the tub or her. When Stan chooses the tub, Francine packs the rest of the family and leaves for her parents. Still annoyed by his feelings about the hot tub, Marguerite investigates and found out that the hot tub came alive after being struck by lightning and killed its original owner and later escaped from a mental hospital.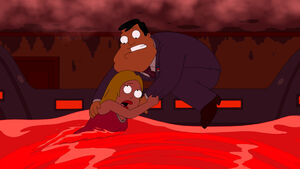 Marguerite calls up Principal Lewis and they go to Stan's house where the tub swallows Lewis. Marguerite tries to escape but the hot tub fills his car full of water, causing him to crash into a tree and is killed. The tub then calls up Francine and imitates Stan to draw her to it. Stan arrives just after Francine leaves and discovers the deception. Stan returns home just as the tub swallows Francine. Stan tries to fight the hot tub and recover Francine but is killed in the end.