For a complete script, see: "Home Wrecker" on the Transcripts Wiki
---
Principal Lewis: Hold up, it looks like we've got ourselves a magic moron.
---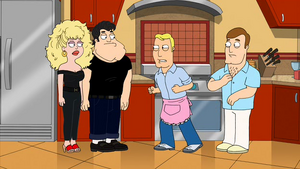 Stan and Francine: [singing] We're Stan and Frannie, and we go together like...
Terry: Oh no! Hell, NO! You do not come in here and start singing a musical on MY stage!
Greg: Terry, calm down.
Terry: NO! If anyone is singing a musical number in this house it's me! I will sing the Can Can song from Irma La Douce and BRING YOU TO TEARS!
Greg: He'll do it. You better go now.
Terry: AHHH! 5, 6, 7, 8,! LALALALALALALA LALALALALA LA LA LA LA LALALALALALALALALALALALA
Greg: Well my weekend is shot thank you for this.
---
Barry: NEVER TOUCH A FAT BOY'S CANDY!
---
Francine: STAN!
Stan: FRANCINE!
Francine: STAN!
Stan: FRANCINE!
Francine: I MISS HOLDING YOU!
Stan: [crying] START MAKING DINNER IMMEDIATELY!
---
Roger: Take a picture. It'll last longer.
Community content is available under
CC-BY-SA
unless otherwise noted.