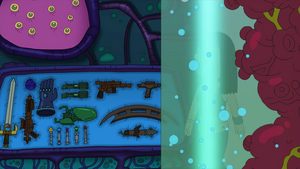 On the alien ship, Hayley and Roger pass a wall of assorted weapons, including a Star Trek phaser, Klingon d'k tahg dagger and bat'leth, Han Solo's blaster, light sabers, a thermal detonator from Star Wars, an M42A rifle from Aliens, sonic screwdrivers from Doctor Who, the Sword of Omens from Thundercats, the Infinity Gauntlet from Marvel Comics and a gun from the game series Portal.
Klaus' surprise that Snot comes back from "Jewish camp" is a nod to the Nazi extermination camps in WWII.
Hayley refers to Proposition 87 making weed practically legal. But Prop 87 is in California and only concerns energy, while the Smiths live in Virginia.
In another section of the alien ship, Roger passes by a wall of technology which includes the wing of a TIE Fighter, a Dalek and a giant Cylon helmet. The technology is from Star Wars, Doctor Who and BattleStar Galactica, respectively.
Community content is available under
CC-BY-SA
unless otherwise noted.