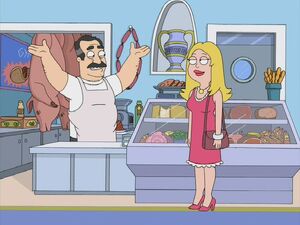 Hercules was the proprietor of Hercules Fine Meats.
In "Oedipal Panties", Francine goes to pick out meat for a welcome-home dinner. Hercules, the butcher recounts the story of his lost wife and then convinces Francine to take lamb. When Francine brings by Stan's mother Betty Smith to meet Hercules, she mentions the lamb was fatty and Hercules admits to selling lower-grade meat as a family obligation but hits things off with Betty. Roger believes that Betty is playing the role of 'black widow' and killing her dates to keep Stan at her side. They try to convince Stan but he dismisses it as Francine's jealousy towards his mother and leaves. Francine and Roger find out that Hercules is out on a date with Betty and rush to Les Pantalons Fancie to warn him. When they observe her following him in the direction of the rest room, Francine rushes in to save him just as he's being dragged into an air duct. Francine pulls Hercules back into the restroom and rushes out to confront Betty, however, she learns that Stan has been abducting all her dates and putting them on an uncharted island in order to be close to her. Stan recounts how he got rid of all of her previous dates and heads off to get Hercules only to find his mother had taken off with him for Greece. They race to the airport with Francine beating Stan there. Francine boards the airplane for the flight while Stan climbs aboard through the landing gear. Francine catches Stan as he attempts to slip past and shows him his mother is happy with Hercules as the flight attendant announces their engagement. Stan tries one last time to kill Hercules but is stopped by his mother who convinces him that he doesn't need to keep staying by her and he needs to focus on his love Francine. While sailing the Mediterranean with Betty and Hercules, they pass the island where Stan dumped all of Betty's previous dates.
Hercules and Betty Smith appear in the audience in "Phantom of the Telethon".
Hercules and Betty also appear at Stan and Francine's vow renewal at Pizza Overlord in "Shallow Vows".
He has a crowd scene cameo at the Chimdale Mountain Inn in "100 A.D.". In "American Stepdad" it is revealed he died and Betty marries Roger after Hercules is laid to rest at the Langley Falls Cemetery. His eulogy is presented by John Stamos.
Hercules is voiced by David Hemingson.
Community content is available under
CC-BY-SA
unless otherwise noted.