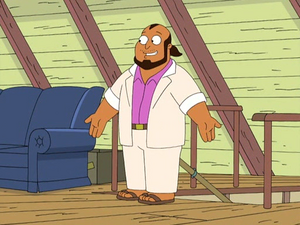 Helicopter Perry is a porno movie producer who has worked with Roger in his persona of Freddy Underwood.
In "Stan Time", Perry commissions Roger to write his latest porno movie, but is disappointed when Roger delivers a familiar plot involving pool cleaners and pizza delivery boys. Steve suggests changing the characters to IT support guys and Perry likes the idea. But when Steve's idea becomes a futuristic fantasy, Perry demands something more realistic. Roger and Steve brainstorm in a diner, oblivious to the flirtatious antics of the two waitresses, Mia & Sandy and come up with a plot involving pizza delivery boys and robot butlers in turn of the century England.
Perry appears in the courtroom in "Hayley Smith, Seal Team Six".
Community content is available under
CC-BY-SA
unless otherwise noted.