Hamerican Dad!
Stan invites Roger into his ham club.

Season: 14 Episode: 14
Total Episode Count: 270
Prod. no.: DAJN14
First Aired: July 15, 2019

Featuring: Stan, Roger
Also Appearing: Francine, Klaus, Hayley, Steve, Jeff, Greg, Betty Smith, Taz, Carol, Arturo, Ignatius Calhoun
Musical Numbers: All That Ham

Director: Josue Cervantes

Assistant Director
:
John O'Day
Writers
:
Sam Brenner
Storyboarders
:
Michael Baylis
,
Gerard Galang
,
Lila Martinez
Roger's Disguise
: The Renegade from "
OreTron Trail
"
Plot
: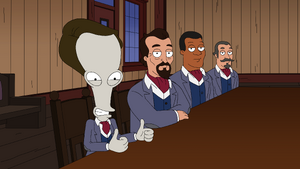 Stan is overjoyed when a member of his ham club passes away, which allows him to move up in the ranks. Since the club has an opening, Roger asks to join. Stan goes along, figuring Roger will flop in his interview and at least take the pressure off of him. Indeed, Roger's initial interview bombs, so he comes back with a musical number that allows him to get in the club. His antics continue to frustrate Stan, who aspires to become the head carver, but Roger's encouragement to try for the position turns out to be a setup to embarrass him and secure the carver position for himself.
As Roger prepares his ham for the group, Stan sabotages it by injecting poison. But after having skipped the serving session, he finds the club members on death's door. Together with Roger, they take the members up to Maine to try to get them healthy in the fresh air. They further try to rejuvenate them after an extended period with a fresh ham, but they relapse with sickness. Stan admits that he poisoned the first ham, as Roger admits he poisoned it even further, as well as their water, so that they could stay in Maine together for an extended time. Having stopped the poisoning, the members start to recover, as Roger decides to poison them again to extend their trip.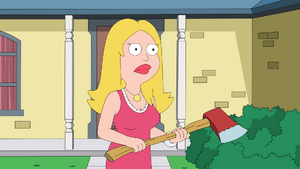 Meanwhile, Francine realizes that she's scared everyone except Greg, so she goes after him with an ax. She wakes up in the hospital after a coma, where she is told by Hayley that when she charged across the street after Greg, she was struck by a truck. She first laments that she failed to scare Greg, but he admits that her near death experience scared him plenty, which leaves her with a smile.