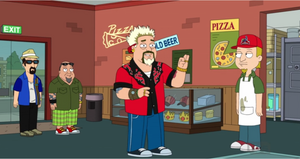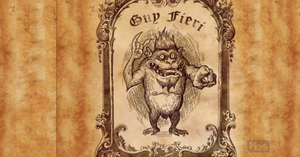 Guy Ramsay Fieri (born January 22, 1968) is an American restaurateur, author, game show host, and an Emmy Award winning television personality.
When Stan berates Jeff for his lack of personal identity in "Flavortown", he pressures him into getting a job. But while working at Pizza Overlord, Guy Fieri arrives with his crew to scout out the place for an episode of Diners, Drive-in and Dives. He invites Jeff to join his 'pesto crew', and with encouragement from Stan, does so. But when his mannerisms annoy Hayley, she lays down the law and insists that he quit. When he tries to do so, Guy Fieri announces his planned retirement and leaves the entire operation to Jeff.
Hayley is heartbroken when she learns that Jeff decided to take Guy up on his offer when he returns in full Fieri regalia. Stan begins to wonder if he did the right thing, but when he tries to talk some sense into Jeff, he finds that he cannot strip Jeff of his Fieri outfit. Suspecting occult forces, he goes to the library to read more on the subject and finds out that Guy Fieri was actually a demon and the only way to banish him is to return him to Flavortown. Together, they travel to a remote jungle where Stan discovers that the key part of banishing the demon is for him to drink from a pool of habanero queso sauce. The demon is cautious at first, so Stan volunteers to sample it for him. Stan's inadequate description of the taste tricks Fieri into wandering into the pool itself. Stan decides that he likes Fieri more than he does Jeff, so he tries to rescue him, but they both end up back at the Smith home after falling through a portal with Jeff returned to normal.
Guy Fieri is voiced by Roger Craig Smith.
Community content is available under
CC-BY-SA
unless otherwise noted.