Francine: Roger, you're the most disgusting out of shape piece of shit I've ever met in my life, and I know Sammy Hagar.
---
Steve: Wow! This is a really safe car!
Stan: Of course it is, son. The new Chevy Tumbler has driver and passenger-side air bags, as well as head-curtain side-impact air bags. Plus an all-new third row of seats and OnStar with a one-year "Safe and Sound" plan.
Elaine: This is OnStar. Is everything okay, Mr. Smith?
Stan: Everything's fine, Elaine. Thank you.
Francine: Who the fuck is Elaine, Stan?
---
Roger: You can't participate Klaus, I hate you. I say that not out of anger, but simply as a fact. It's 67 degrees outside and I hate you.
---
Stan: Earth Stan is boxers. Space Stan is panties. Steve, don't steal glances. If you want to check out my meatballs in this thing, go right ahead. I'm your dad.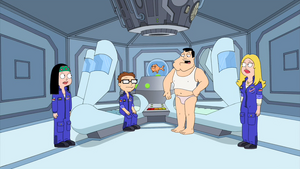 ---
Hayley: Steve, you will never get laid. There is nothing attractive about you. You have the sex appeal of the cancer ward in a pediatric hospital.
---
Francine: Stan, you have the undeserved ego of Jeremy Piven, the annoying self-righteousness of Sean Penn, and the unbearable hypocrisy of Rush Limbaugh. What I'm trying to say is, you're almost as bad a person as Rachael Ray.
---