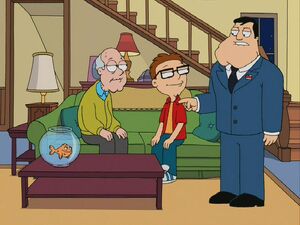 "Grandpa" Smith is not a blood relative of the Smith family. In "Con Heir", it is revealed that Stan picked him up in front of the "Home Deport" hardware store, three hours before his wedding to Francine. "Grandpa" was a very quiet and calm old man. He was somewhat senile. "Grandpa" has been a 'pretend' member of the Smith family since Stan and Francine were married. Any other 'real' family is unknown, there was none at his funeral. "Grandpa" loved sugar packets, having a collection, which Steve and Gretchen went through after his death. He also loved IHOP. "Grandpa" used to play bridge with Gretchen. He was also a part of Steve's charades game.
He lived at the Langley Falls Retirement Villas.
Voiced by Dee Bradley Baker
Notes
According to Stan, "Grandpa" is incontinent.
He has one testicle, which he apparently lost to Bette Davis.