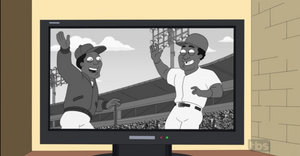 Glenn Lawrence Burke (November 16, 1952 – May 30, 1995) was a Major League Baseball player for the Los Angeles Dodgers and Oakland Athletics from 1976 to 1979.
On October 2, 1977, Burke ran onto the field to congratulate his Dodgers teammate Dusty Baker after Baker hit his 30th home run in the last game of the regular season. Burke raised his hand over his head as Baker jogged home from third base. Not knowing what to do about the upraised hand, Baker slapped it and they were credited with inventing the high five.
While watching a documentary on IFC about the invention of the high five in "One-Woman Swole", Klaus becomes incensed, claiming to have invented the high five after passing a drug test at the 1974 Junior Olympics.
Community content is available under
CC-BY-SA
unless otherwise noted.