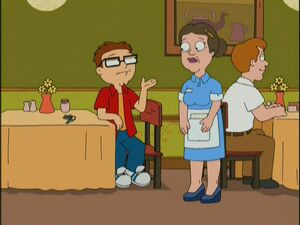 Gladys is a hostess at Coughy's Coffee Shop where Francine meets Steve in "Iced, Iced Babies". He knows Francine set him up with drugs to break up his relationship with Debbie, and he tells his mother he's ready to move on. He says he's found another woman and Francine has to move on. Francine realizes she was set up by meeting in a public place so as to avoid a scene and leaves in tears. Steve then tells the hostess Gladys that he has found another coffee shop in the same manner.
Community content is available under
CC-BY-SA
unless otherwise noted.