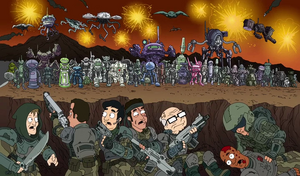 The title was originally registered under the name "Gift Me Liberty" but was changed prior to broadcast to "Gifted Me Liberty". The title was changed by TBS back to its original form with the airings on Hulu effective 3-16-2018.
Among the robots in Steve's fantasy are "Robot" from Lost in Space, Rosie from The Jetsons and R2-D2 from Star Wars.
"Halls Of Illusions" by Insane Clown Posse plays as Klaus arrives at Steve's funeral.
"Má vlast" or "My Homeland", originally composed by Bedřich Smetana, plays during Steve's fantasy. Specifically, the second movement, "Vltava".
The name "Stiles" is reiterated for the character formerly known as "McGee."
Dick is credited by Stan as having created feline AIDS, although the CIA covered it up by blaming gay cats.
Stan claims to be a 2008 graduate of the Cordon Bleu cooking school.
Bullock declares "Prima Nocta", the tradition of a noble deflowering virgin brides on their wedding night before the husband, on Davenport's widow during his funeral.[1]
Stan's sperm & blood donations leave him bald. In "Chimdale", he wore a wig to cover his already bald head.
Community content is available under
CC-BY-SA
unless otherwise noted.