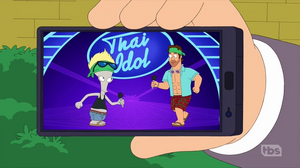 "Ghostbusters" is a song recorded by Ray Parker Jr. as the theme to the film of the same name.
When Roger, in the persona of Yeager Chillax and Johnny Bananas realize that they won't be the stars of "The Bitchin' Race", they drop out to spend time in a karaoke bar in Bangkok, Thailand. After Roger interprets a customer ordering a drink as a pick-up for sex, his song choice of "Ghostbusters" comes on and he has to break away to sing. Roger and Johnny eventually take the song on the show Thai Idol.
Karaoke bar lyrics
Roger: [Alternating between singing and giving instructions]
When there's something strange...
Johnny
...in your neighborhood...
I need you to
...who ya gonna call...
jerk that guy off
Ghostbusters!
Thai Idol lyrics
Together: Bustin', yeah, bustin', Oh, bustin' makes me feel good
Community content is available under
CC-BY-SA
unless otherwise noted.