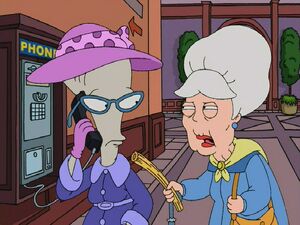 Gertie is a senior citizen that befriends Roger in "Roger Codger".
Gertie is a member of a senior citizen tour group in Washington D.C. When Roger is mistaken for an elderly woman and placed on the tour bus, Gertie quickly befriends "Mrs. Nesbaum" and accompanies Roger throughout the capital. While on the Washington tour with Gertie, Roger reveals that he has recently left his family, and Gertie claims that Roger can join her as her new sister. However, shortly afterward Roger is shocked to find out that his new friend is actually a raging bigot who hates Abraham Lincoln for having freed the slaves.
Roger attempts to get away from Gertie by calling Hayley to come pick him up, but he is unable to shake the racist old woman. Roger's family appears at the Smithsonian to retrieve him, but Stan attempts to kill Roger, to keep him from revealing to the CIA that the Smiths were harboring him. Stan is stopped from doing so by the rest of his family, and Roger flees across the Smithsonian with Gertie in pursuit, trying to stop Stan from hurting her new "sister".
When Stan finally corners the alien in a small room, Gertie catches up and attacks Stan. To stop her, Stan stuffs the old woman into a mummy sarcophagus. Then, the CIA, led by Bullock himself, knocks at the door demanding that the alien surrender himself. When Roger shows a disposition to turn himself in and be killed by Stan in order to save "his family", Stan changes his mind and decides that he must save Roger. He has an idea: He strips naked and de-wigs Gertie and turns her in as the alien. Bullock buys it and takes the "alien", promising Stan his old status back for the apprehension.
Gertie was apparently brought back to Area 51 to be studied as an alien, and she is seen floating in a tank of goo when Roger and Stan infiltrate the base in "You Debt Your Life".
Gertie was also seen on the doomed bus in "100 A.D.".
Gertie is a racist bigot who apparently doesn't discriminate, as she makes prejudiced comments towards blacks, Native Americans, Chinese, Mexicans, and even white people.
Community content is available under
CC-BY-SA
unless otherwise noted.