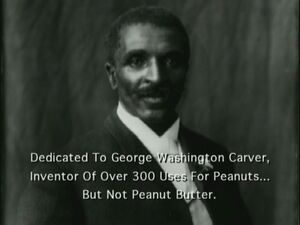 George Washington Carver (by January 1864 - January 5, 1943) was an American scientist, botanist, educator and inventor. Much of Carver's fame is based on his research into and promotion of alternative crops to cotton, such as peanuts and sweet potatoes. He wanted poor farmers to grow alternative crops both as a source of their own food and as a source of other products to improve their quality of life. The most popular of his 44 practical bulletins for farmers contained 105 food recipes that used peanuts. He also created or disseminated about 100 products made from peanuts that were useful for the house and farm, including cosmetics, dyes, paints, plastics, gasoline, and nitroglycerin.
George Washington Carver plays a pivotal role in "Black Mystery Month" Abraham Lincoln invents peanut butter (or more correctly, Mary Todd Lincoln invents it to ward off spirits) and plans to use it to win over the South by reporting a black man invented it. His assassination at the hands of John Wilkes Booth delays this until President Grover Cleveland leaves a jar of the peanut butter on George Washington Carver's doorstep. A title card at the end of the episode correctly notes his number of inventions involving the peanut, but peanut butter is not among them.
Community content is available under
CC-BY-SA
unless otherwise noted.