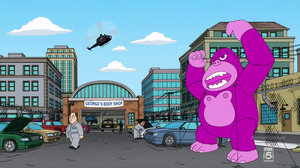 George's Body Shop is recommended by Snot for Steve to have the dents knocked out of the multi-million dollar military drone they damage in "Home Adrone". Since the garage policy is 'No Questions Asked' by the mechanic or the customers, Steve must negotiate the repairs with the mechanic without asking questions.
In "Rubberneckers", Stan has his SUV sent there for repairs after causing an accident while staring at a female jogger. When Heinrich Brown, an insurance investigator who believes Stan was "rubbernecking" but doesn't have any proof, heads to the shop to examine Stan's car, Stans CIA buddies airlift him by helicopter and drop him on top of a giant inflatable gorilla so he can recover his cell phone which has pictures of the jogger he took while driving. Heinrich arrives too soon for Stan to recover the camera, but he misses the it in his investigation until it starts to ring. Heinrich gets to it first to talk to Roger and he discovers the picture of the jogger and proceeds with a fraud case against Stan. As they wrap up their business, the CIA helicopter crashes because the pilot was staring at a news reporter in another helicopter, cutting a mechanic in two as he inquires about buying life insurance.
Community content is available under
CC-BY-SA
unless otherwise noted.