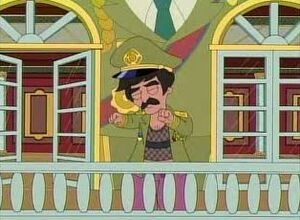 Hector Aldozar was the best dancer in Isla Island when Roger, posing as General Juanito Pequeño in "Moon Over Isla Island" changed the name of the country to 'Bananarama'.
After the already deceased General Pequeño was ousted as ruler, Hector took the title of General, gaining full leadership of the country. Unfortunately, it was later revealed that he became the most bloodthirsty ruler in Isla Island's history, earning the nickname 'The Dancer of Death'.
The General appears in "Crotchwalkers", working at The Gash Sweatshop.
He also appears in the background of "100 Years a Solid Fool" as Roger and Stan talk in the plaza before the statue of 'the fool'.