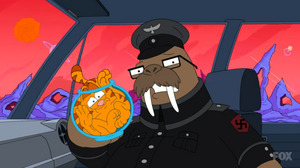 Garfield is a comic strip created by Jim Davis. Published since June 19, 1978, it chronicles the life of the title character, the cat Garfield; his owner, Jon Arbuckle; and Arbuckle's dog, Odie.
In "The American Dad After School Special", Hayley notes that plus-size women drive the economy with their purchases of Garfield books and Haagen-Dazs.
Stan said in "42-Year-Old Virgin" he wouldn't kill a man named James, because his name is similar to Jim Davis, the cartoonist who created Garfield.
A stoned Roger hallucinated Klaus as Garfield and Steve as a Nazi walrus in "100 A.D.". He brings up how 'Garfield' hates Mondays when he doesn't work.
Roger claims his red wig in "Old Stan in the Mountain" looks like Garfield had a miscarriage.
Klaus remembers MC Skat Kat when he sings "Opposites Attract" with Stan in "Kiss Kiss, Cam Cam". He also mentions that he remembers that Garfield hates Mondays.
Garfield is mentioned several times as the characters try to separate the cat from former President James A. Garfield in "Garfield and Friends". The episode title also references a television series about the cat.
Hayley recalls ordering a Garfield doormat that failed to show up in the mail in "Fight and Flight". When she believes a package for Klaus was misdelivered to the south extension of the street, she suggests they try there. The owner denies having Klaus' shoes, but when Hayley spies the missing doormat that she ordered, they burst in with guns drawn and hold the owner hostage. Hayley later gets a call from Jeff telling her that Klaus' package was in the bushes at the house and she also admits that perhaps she didn't really buy the doormat either.
When Stan begs Jeff to take him as his guest to Tommie Tokes factory in "Jeff and the Dank Ass Weed Factory", he compares Stan's hatred of weed to taking Garfield to a Mondays factory.
In an effort to look macho for Francine in "Enter Stanman", Stan arrives at dinner riding a motorcycle and wearing stick-on tattoos of Garfield and Odie.
Community content is available under
CC-BY-SA
unless otherwise noted.