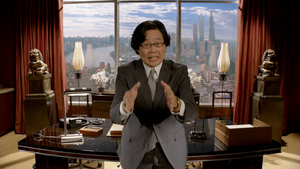 Fung Wah is a Chinese billionaire that buys American Dad! after Seth MacFarlane gets bored with the show in "American Fung". He assures the viewers that despite the new ownership, the show will remain the same.
However, Steve reads a newspaper story about Fung increasing his wealth, then he later appears to help Roger with a problem of lack of storage space for his disguises by pointing out an under used closet in the living room. He invites Steve, Roger, Klaus and Hayley to join him in an adventure where he uncovers even more wealth beneath a slab of sidewalk. He finishes up Stan and Francine's story of an anniversary gone wrong by showing a live action film of them enjoying the Fung Wah Resort in Bali and buying his expensive products. He then sells the show for a profit to another Chinese billionaire who makes other significant changes to the show.
Fung is performed by David Jung.
Community content is available under
CC-BY-SA
unless otherwise noted.