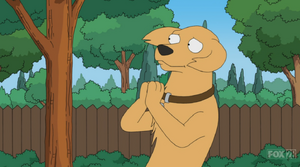 Freddy was Stan Smith's pet dog when he was a child.
When Stan's father left the family, Stan's mother tricked Stan into killing Freddy because they didn't allow dogs in their new apartment. In "Stan's Best Friend", Stan uses his feelings about having to kill Freddy to avoid letting Steve have a dog. But when Francine gets him one named Kisses anyways, Stan soon becomes attached to it. But when a hot air balloon full of cats lands on Kisses, crushing him, Stan takes him to Dr. Lizzy, a practitioner of alternative pet care. Dr. Lizzy ends up creating a monster, sewing Kisses' eyes where his testicles used to be. The family is horrified as Stan wants to hang on to his dog until the spirit of Freddy tells him it's ok to let Kisses go. Stan sends Kisses off to Heaven with a bang, blowing him up with dynamite where Freddy introduces him to cute female dogs and monsters that have to be destroyed.
A dog resembling Freddy appears at the SPCA in "The Full Cognitive Redaction of Avery Bullock by the Coward Stan Smith".
Freddy is voiced by Joe Lo Truglio.
Community content is available under
CC-BY-SA
unless otherwise noted.