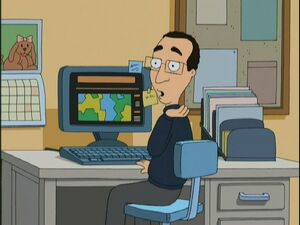 Franz is reportedly the "World's Greatest Rapist", one of the experts Stan hires to break George Clooney's heart for Francine in "Tears of a Clooney".
He has cameos in the Sidney screening of Oscar Gold in "Tearjerker", outside of Les Pantalons Fancie in "Oedipal Panties", the celebration of the 1000th vagina joke in "Widowmaker", the audience in "Phantom of the Telethon" and at the Homeowners Association meeting in "Roy Rogers McFreely".
Franz attends the Chimdale Prison kickball game in "Man in the Moonbounce".
He also appears in the audience when Stan is announced as the lead in the play Piñata Man in "A Piñata Named Desire" and welcomes "baby Franny" at the anniversary celebration in "National Treasure 4: Baby Franny: She's Doing Well: The Hole Story".
He attends the art show at the Langley Falls Museum of Art in "Portrait of Francine's Genitals" and on Roger's first flight in "Whole Slotta Love".
Stan, as Ricky Spanish, vandalizes Franz' bookmobile in "Persona Assistant". Stan also steals a Dikembe Mutombo jersey from him as a gift for Steve in "Shark?!".
Franz is voiced by Seth MacFarlane.
Appearances
Community content is available under
CC-BY-SA
unless otherwise noted.