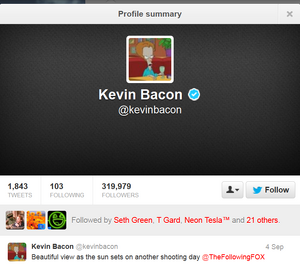 The real Kevin Bacon would adopt the image of Roger dressed as him as his Twitter avatar.
The song that plays when Roger tries out the different noses in the kit is "Hello Beautiful" by Maurice Chevalier.
At the end of act two, a suggestion of the Twilight Zone theme can be heard when Stan tells Francine she killed her best friend.
When Bullock talks to Stan at the CIA, a picture of George W. Bush is seen in the background.
Roger's nose comes from Rick Baker's Celebrity Nose Kit. Special effects artist Rick Baker was also credited as having designed Stan's sandwich in "Bullocks To Stan".
When Stan, Francine, Bullock, and Melinda are on their double date and Melinda comments on Bullock's accent, Bullock demonstrates it by saying "Ben Roethlisberger", the quarterback for the Pittsburgh Steelers American football team.
From the episode commentary:
Erik Durbin came up with the newspaper gag.
This episode was not written by Zuckerman alone. This was written by Zuckerman, along with Josh Bycel & Jonathan Fener, Chris McKenna & Matt McKenna, Rick Wiener & Kenny Schwartz, and a couple of others. Zuckerman was credited because he had come up with the Kevin Bacon sub-plot.
The original draft of this episode was much different. It had a bunch of CIA agents getting mysteriously killed and Stan thinks it was Bullock behind the murders. The David Zuckerman-written draft was turned down by Mike Barker & Matt Weitzman. Zuckerman then jokes in the commentary that he should see if people like the original or finished draft better and contemplates uploading it to his nonexistent site "FuckMikeandMatt.org."