Flush After Reading
The family spends time at the library.

Season: 16 Episode: 14
Total Episode Count: 314
Prod. no.: FAJN16
First Aired: July 19, 2021

Featuring: Francine Smith, Roger
Also Appearing: Stan, Steve, Hayley, Klaus, Rogu, Tuttle, Elizabeth Bennet, Fitzwilliam Darcy, Charles Bingley, Caroline Bingley, George Wickham, Sherlock Holmes & Dr. Watson, Dorothy, Toto, The Tin Woodsman, Scarecrow, Alice, The White Rabbit, The Mad Hatter, Joline
Director: Tim Parsons

Assistant Director
:
Jamie Iglehart
Writers
:
Laura Beason
Storyboarders
:
Clayton Christman
,
Chris Toms
Roger's Disguise
: Hazel Bazels from "
Tapped Out
"
Plot
:
As Francine slips out of the house, supposedly to go to the library, the family speculates on her actual whereabouts. But when Stan's tracker reveals she is actually at the library, he is determined to stop her from reading and being a 'nerd', so he follows her to the library. Meanwhile, Rogu's 'fishing' for the family's bowel movements reveals that Francine doesn't use the toilet in the house, so Roger decides to investigate it as a mystery as 'Sherlock Groans'. When Francine discovers that Stan is on her trail, she has Roger slip her into the stories themselves using a power of his. They wind up in Pride and Prejudice, where she reveals that due to an unfortunate Taco King incident on an airplane, she can't have a bowel movement in the house for fear of Stan finding out. When they upset the resident characters of Pride and Prejudice, they flee to another book and wind up in Sherlock Holmes. As Stan is still disgusted by books, the librarian, a recovering pyromaniac, encourages him to start burning them.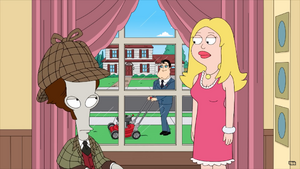 While in Sherlock Holmes, Roger and Francine become aware of the fire started by Stan and try to flee through several other books before winding up at home, which turns out to be an unsuccessful memoir written by Stan himself. However, they are forced to flee when the fire catches up yet again, but are trapped in the kitchen. As Roger enjoys being inflammable, Francine nearly faces death until the flames suddenly end, because Stan decided to save his memoir. However, Francine finds herself reliving the taco incident. To escape, they arrange a quick rewrite of the memoir to make it unsellable on Amazon and are ejected from the book, where she tells Stan her secret. Stan doesn't believe it until she demonstrates, and finds that he is actually impressed, so she pledges to keep her bowel movements at home.
Meanwhile, Klaus faces a crisis from being lonely, but when he scores a date, she dumps him for lying in his profile.