The title references the phrase "Fight or flight," meaning to actually face a challenge or escape.
"Oh Mama!" is a reference to a recurring skit of Goldie Hawn dancing in Rowan & Martin's Laugh-In.
Klaus' line "You want to get nuts, let's get nuts!" is a reference to the 1989 film Batman. A variation of the quote was used by Steve in "Escape from Pearl Bailey".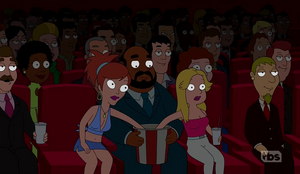 The Dreamsmith logo in Stan's film feature parodies of various film companies including a lion from MGM, TriStar's Pegasus, Detonation Films explosion, Dreamwork's moon and Jerry Bruckhiemer Films lighting bolt.
The girls reaching into the popcorn bucket on Principal Lewis' lap and becoming wide-eyed is a reference to a scene in the 1982 film Diner, in which a guy slips his penis though the bottom of a popcorn box at a theater for his date to find.[1]
Stan exclaims "De plane" when he discovers that Steve has taken the Spirit of Saint Louis, referencing Hervé Villechaize' character of Tattoo from Fantasy Island.
Francine's dance scenes parody those of Goldie Hawn's Laugh-In go-go dancer.[2]
Community content is available under
CC-BY-SA
unless otherwise noted.