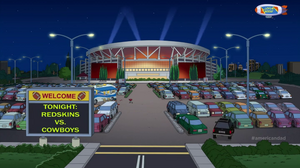 FedExField, originally Jack Kent Cooke Stadium or also known as Redskins Stadium is a football stadium located in an unincorporated area near the Capital Beltway (I-495) in Prince George's County, Maryland. FedExField is the home of the Washington Redskins football team. With seating for 85,000, FedExField is the largest venue in the NFL in terms of regular capacity.
When Stan leaves home unable to stand being around his in-laws on Thanksgiving in "Kung Pao Turkey", he tries to get a meal at the East Langley Soup Kitchen but is turned away. He drives until he finds himself at FedExField where the Redskins are playing the Dallas Cowboys but is unable to gain admittance without a ticket. Wandering through the parking lots, he meets Laura & Marvin who invite him to join them in their tailgate while making friendly competitive banter about his Redskins team. In return, when it looks like their grill won't start, Stan uses the engine of his car as a makeshift grill to cook the food, saving the tailgate. Sitting down with people he would otherwise dislike, Stan realizes that he should still be with his family and returns home.
Community content is available under
CC-BY-SA
unless otherwise noted.