Familyland
Francine tries to relive the Smith kids' childhood.

Season: 9 Episode: 10
Total Episode Count: 162
Prod. no.: 8AJN09
First Aired: January 12, 2014

Guest Starring: John Viener
Featuring: Francine Smith
Also Appearing: Stan, Steve, Hayley, Roger, Klaus, Avery Bullock, Todd, Timmy Johnson, Nathan, Dennis, Melissa, Bobby, Susie, Lisa Silver, Danny, Delroy, Mikey Muskrat, Pappy Van Pappy, Floppy Rabbit, Roy Family
Musical Numbers: Trippin' Balls

Director: Joe Daniello

Assistant Director
:
Patrick Kochakji
Writers
:
Joe Chandler
,
Nic Wegener
Storyboarders
:
Eric Fredrickson
,
Oreste Canestrelli
,
Max Martinez
Roger's Disguise
: Oscar from "
Tearjerker
"
Plot
:
Francine looks forward to going to Familyland Theme Park as the last time they had a really good day out was at the park although the rest of the family is lost in their electronic devices. Everyone wants to split up to go their own ways despite Francine's plans and they ditch her. Steve sets off to Cartoon City, Hayley tries to convince girls to ditch the princess role-model in Fairy Tale Land while Roger becomes enamored with the Outer Space Land. Stan heads to Wild Wild West World, leaving Francine and Klaus to sneer at the statue of Roy Family, the park founder who was rumored to have been frozen after his death. As they walk away, a tear rolls down his face and a bright light appears. Roy emerges and turns his park into a trap after he sees people that don't meet with his approval such as overweight and interracial families and selfish kids as he instructs his employee to seal in the park.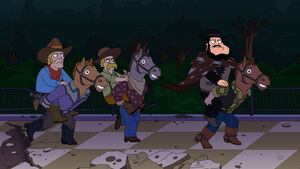 A week later, the survivors have turned feral, maintaining their favorite area where each of the Smith family has become King of their own land. They try to strong-arm each other for supplies with Roger trying to torment Stan while Steve's man brings him churros from fairy tale land. Francine and Klaus find themselves wandering the park and ride the Simpler Times Mountain flume ride, discovering an elevator and finding Roy's lair. Roy announces on the public address that the sole remaining army gets to leave the park, although he tells Francine that he intends to kill the last survivors as well. Roy reveals that he got to see what happened to his park and since they destroyed his dream, he intends to destroy them, finding Francine the sole person worthy of his dream.
As the armies gather, Roy takes Francine to his private apartment where he leaves her to his kitchen while he watches the battle. As the armies meet in combat, Francine is forced to keep house for Roy. She hatches a plot to blow fresh-baked cookies into the park which makes everyone pause and remember their home life. They burst into the control room and confront Roy who applauds their togetherness and gives them lifetime passes. Roy goes back into cold storage until another family needs him as the park closes after a flurry of lawsuits and becomes a memorial park for the victims.

Community content is available under
CC-BY-SA
unless otherwise noted.