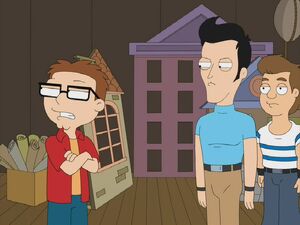 Evan is a member of the drama club at Pearl Bailey High School. In "Escape from Pearl Bailey", Evan calls attention to Steve and his friends escape attempt after Steve horribly pranks the popular girls including Principal Lewis' daughter Janet who offers a reward for their capture. When they attack Evan's acting, calling his portrayal of Conrad Birdie from the musical Bye Bye Birdie contrived and flawed, the guys manage to escape leaving Evan in tears as he is comforted by his fellow drama geeks.
Evan appears in the 80s mall in "The Devil Wears a Lapel Pin" and at the drama kids table in "The Witches of Langley".
He also appears outside of Tommie Tokes factory in "Jeff and the Dank Ass Weed Factory".
Evan's basic character design is recycled into A.J. Slick.
Evan is voiced by Peter Paige.
Community content is available under
CC-BY-SA
unless otherwise noted.