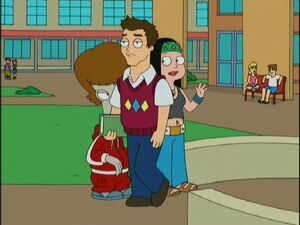 Ethan is a student at Groff Community College. Hayley thinks he's hot because he completely ignores her. When Roger poses as a professor in "Iced, Iced Babies", Ethan walks into Roger's office and says he's inspired by Roger, so Hayley uses the opportunity to get a date with Ethan. When Roger and Hayley arrive at Ethan's mansion, Ethan tells Roger that he took his advice to make a change for the better and admits he stabbed his father thirty times.
After forcing Roger and Hayley into a night of dancing and games, Roger confesses to Ethan that he's not a real professor. He realizes he doesn't need respect, he just likes to sit on the couch and watch TV. Ethan, on the other hand, becomes horrified that he killed his father because of Roger, which causes him to hold himself and rock in his fear.
Ethan is voiced by Elijah Wood.
Community content is available under
CC-BY-SA
unless otherwise noted.