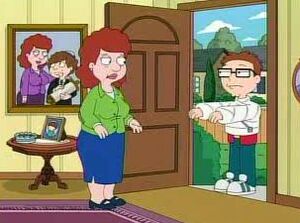 Mrs. Esther Lonstein is the mother of Schmuely "Snot" Lonstein and is seen in "Moon Over Isla Island". When Snot accidentally get a face full of Francine's bosom, Steve tries to get even but gets more than he bargained for when Mrs. Lonstein accidentally brushes his crotch.
Mrs. Lonstein is referenced twice in "The Magnificent Steven"; Snot accuses Steve, Barry and Toshi of being creeped out by his mother's wooden foot, and Steve mentions that Snot's father shot his mother in the face with a flare gun in the past.
Fed up with Snot's badgering him over his Animal Midwife game in "Don't Look a Smith Horse in the Mouth", Steve suggests they go to his house and watch Mrs. Lonstein try to sober up before going to her nursing job. She also sold Snot's costume in "Best Little Horror House in Langley Falls" to buy dental dams to keep from spreading disease to her lovers. Steve tries to get Snot to look on the bright side of spending all of his money on gifts for Hayley in "Jenny Fromdabloc" by pointing out that his mom couldn't steal it from his account any more.
Schmuely calls her in "Can I Be Frank (With You)" to tell her of her brother Lew Schneider's suicide.
Snot's cover story for leaving his home and Steve in "Why Can't We Be Friends?" is that his family moved to Wyoming because his mom liked the cowboy license plates. Meanwhile, Stan sends her a fake message that he has left for training to become an astronaut doctor.
Snot reveals that his father ran away from his family five years previously on a trip to Home Depot in "The Adventures of Twill Ongenbone And His Boy Jabari". However, "Demolition Daddy" reports that Lonnie Lonstein left the family to drive demolition derbies in England after an injury affected his ability to look over his right shoulder. As a result, Esther is very reluctant to let Snot drive.
Snot admits he was a formula baby in "Steve and Snot's Test-Tubular Adventure" because his mom is an alcoholic.
"Uncle Ira" brings Snot and his mother the news that her former husband has died in "Independent Movie".
She attends the town council meeting regarding the new arena in "Roots" and is one of the savage survivors in "The Two Hundred".
Mrs. Lonstein has affairs with many of the characters in "Criss-Cross Applesauce: The Ballad Of Billy Jesusworth".
She is selected by Snot to spend the day at a water park with him over Steve in "Roger's Baby".
Snot and his mom go out for Chinese dinner at Christmas in "Santa, Schmanta".
Mrs. Lonstein was voiced by Susie Essman until "Santa, Schmanta" when Nicole Shabtai took over the role, with both of them appearing in the credits to "Paranoid Frandroid".
Mrs. Lonstein's boyfriend Del invites her and Snot to live with him in his Chesterbrook Condominiums townhouse in "Paranoid Frandroid". But when the bachelor pad that the boys set up in the basement cause her to put the moves on Klaus, he kicks them out.
She attends the town meeting in "The Mural of the Story".
Her first name of Esther is given in "Funnyish Games".
Appearances