For a complete script, see: "Escape from Pearl Bailey" on the Transcripts Wiki
---
Barry: Deb is really packing it on, huh?
---
Stan: It was nice of Steve to acknowledge us this week. Even if it was just this one time.
---
Steve: You wanna get nuts! Come on, lets get nuts!!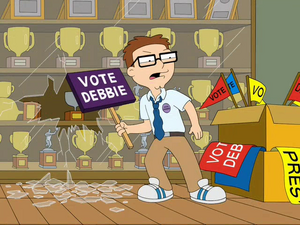 ---
Debbie: Let the nerdy one go...the scrawny nerdy one...the scrawny nerdy one with glasses...Steve.
---
Steve: I want you to 'Turn a Trick' with this teddybear.
---
Barry: Steve, help Barry!
---
[Steve and his friends are about to go out in a blaze of glory]
Steve: We might just take a few of them with us!!
[as they are getting beaten up]
Steve: We're not taking any with us!!
---
Angry Mobster: I'm gunna break the fat one's spine!
Barry: I'm popular.
---
School Billboard: Erections Today! Someone stole our last "L".
Community content is available under
CC-BY-SA
unless otherwise noted.