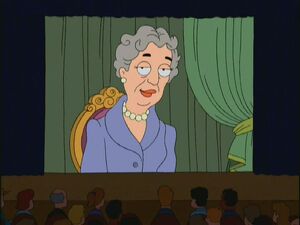 Anna Eleanor Roosevelt (October 11, 1884 – November 7, 1962) was the First Lady of the United States from 1933 to 1945. She supported the New Deal policies of her husband, Franklin Delano Roosevelt, and became an advocate for civil rights. After her husband's death in 1945, Roosevelt continued to be an internationally prominent author, speaker, politician, and activist for the New Deal coalition. She worked to enhance the status of working women, although she opposed the Equal Rights Amendment because she believed it would adversely affect women.
Eleanor Roosevelt appears in Hayley's student film comparing famous women to her mother in "Helping Handis".
Community content is available under
CC-BY-SA
unless otherwise noted.