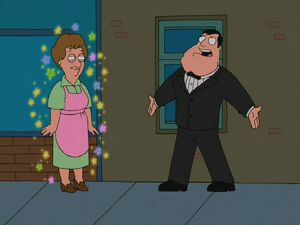 Edith Baines Bunker is a fictional 1970s sitcom mom on All in the Family (and occasionally Archie Bunker's Place), played by Jean Stapleton. She was the wife of Archie Bunker, mother of Gloria Bunker-Stivic, mother-in-law of Michael "Meathead" Stivic, and, after 1975, grandmother of Joey Stivic. Her cousin was Maude Findlay (Beatrice Arthur) who was Archie's nemesis.
During the musical number "I Want A Wife (Not A Partner)" in "Stan of Arabia: Part 1", she is one of Stan's fantasy women who serve their husbands.
Community content is available under
CC-BY-SA
unless otherwise noted.