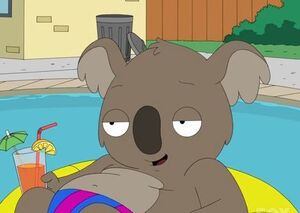 Donald "Don" Fullilove (May 16, 1958) is an American actor. Notable roles include Hill Valley, California Mayor Goldie Wilson in the first Back to the Future film, and his grandson hovermobile salesman Goldie Wilson III in Back to the Future II, and a role in Pixar's Up. He also provided the voice of Michael Jackson as a child voice actor in the animated ABC-TV Saturday Morning series The Jackson 5ive from 1971-73.
Donald was the original voice of Reginald Koala, having been replaced by show writer Erik Durbin since "The Return of the Bling".
Donald also voiced the highway patrol trooper in "Delorean Story-an" and the cop in "Stan's Night Out".